Private lessons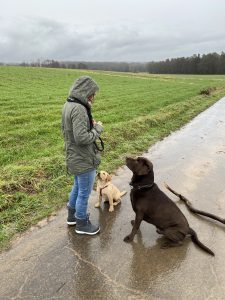 You need individual help and an expert evaluation at your place?
No problem, I am happy to come to your home, for a anamnesis consultation, which usually lasts 60-90 minutes.
The individual training is coordinated individually with you and also "test dogs" are no problem. Time-wise, we always try to mostly comply with you.
An anamnesis appointment costs a one-time 61€ (incl 19% VAT), plus travel costs. For further private lessons, also at different places you pay only 56€ (incl 19% VAT), plus travel expenses.
A problem cannot often be solved in one hour, therefore we also have a special offer of 5 hours for 251,5€ (incl. 19% VAT), plus travel costs.
Together we will find the right training plan for you, feel free to write me today.